Flathead Cylinder Head Torque Specifications
Home
Parts Drawings
Web Links
Tune-Up & Service
Serial Numbers
Engine ID
Trans ID
Model Identification
Terms of Sale
Contact Us
Our Online Store
Our Catalog
Please note that the following specifications and related information are derived from a variety of sources (including Ford shop manuals and industry shop manuals) which may show slightly different details or specs. In general, you will find that the information given is pretty common and straight forward. Also note that these relate to stock Ford and Mercury engines.
Any aftermarket cylinder heads (such as Offenhauser, Edlebrock, and others) will call for different torque specs, even though the tightening sequence may be the same. Aluminum heads call for lower torque specs and it is recommended that the mechanic re-check the torque after the engine has run up to temp and then cooled (in other words....after it has cooled from running). Some owners will re-check all flathead torque settings again after the first month of operation. It is also suggested with aftermarket heads that you "clay" the heads (place modeling clay in the chambers where the valves rise) to check valve clearance before the actual torquing of the studs/bolts. A clearance of .040 is a minimal amount. With the heads mounted (without gaskets) and hand tightened, rotate the engine so that all valves have a chance to open and close. At any points where the valve has moved the clay away from the combustion chamber metal, it may require some grinding to provide clearance. The gasket thickness must be taken into account.
In general, all torque sequences shown below reflect a gradual tightening from the center of the head outward, alternating from side to side and top to bottom. Some diagrams mirror the other diagrams, but essentially perform the same gradual tightening operation. All manuals suggest that the mechanic coat the threads with a thread sealer before installation.
1932 - 1948
85 Horsepower V8 with Cast Iron Heads............................... 50-60 ft lbs
85 Horsepower V8 with
Aluminum Heads
.............................. 35-40 ft lbs
60 Horsepower V8 with Cast Iron Heads..................................... 50 ft lbs
60 Horsepower V8 with
Aluminum Heads
.................................... 30 ft lbs
Note: The specs for the 85hp would be the same for '39 to '48 models of 90, 95, and
100hp (239 cu. in. V8's) whether Ford or Mercury.
1949 - 1953
100-110 Horsepower V8 with Cast Iron Heads............................ 65-70 ft lbs
Note: The specs apply to all Ford and Mercury flathead V8's of these years.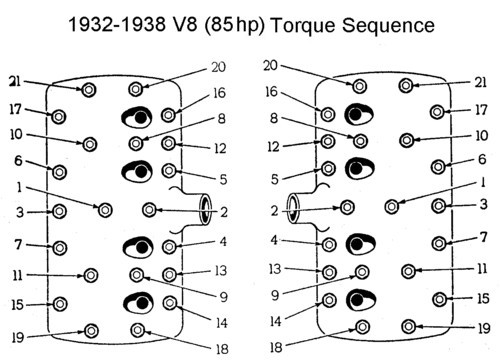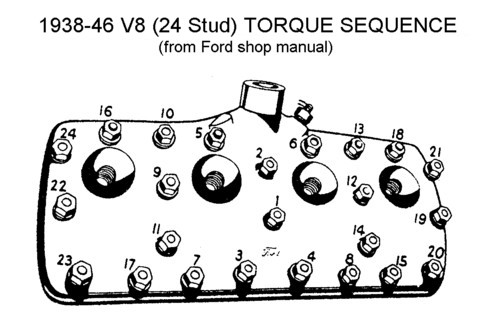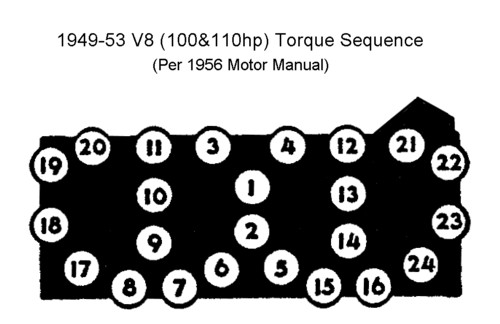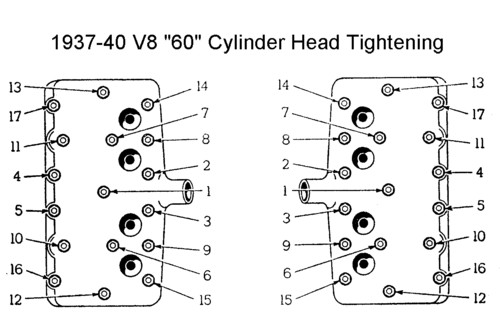 Other Torque Specifications for 1932-48 V8
Other Torque Specifications for 1949-53 V8
Other Torque Specifications for 1948-51 Six