The Development of the Ford Flathead V-8 – Photos From The Henry Ford
August 3, 2013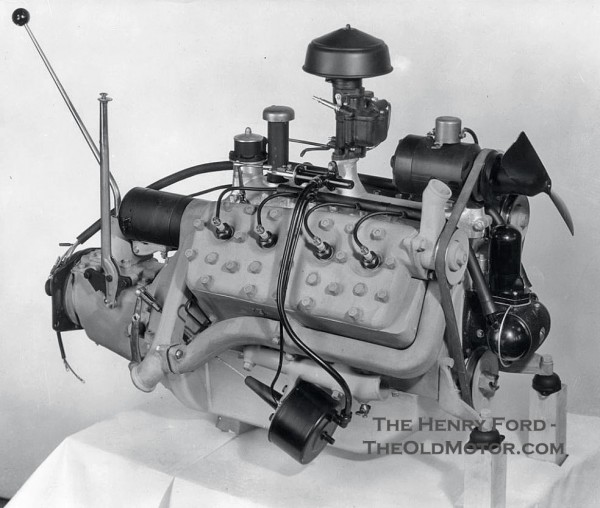 Henry Ford's famous Flathead V-8 had a long gestation period that was filled with much experimentation. A prototype as seen here was one of the final versions after the basic layout had been chosen to debut in the 1932 Ford. If one spends the time really look close and study the photo, it has the appearance of being a model. Do any of our readers know if one was actually built and run? This experimental unit is quite close to the final end result, but with some interesting differences that we will explain.
Two exhausts post are located at the top ends of each bank and the front manifold met the single lower exhaust port, which serviced the center two cylinders as in the production version. It carried a rear-mounted starter atop of the transmission instead of a more conventional forward lower location. This starter location may have been dictated by the ends of the exhaust manifolds being in the way of access to the front of the flywheel ring-gear.
One further and quite interesting difference is the lower water manifold being located under the exhaust manifold, instead of at the front of the engine as in the production version. It also appears to have an experimental diaphragm-operated vacuum clutch assembly mounted to this water manifold.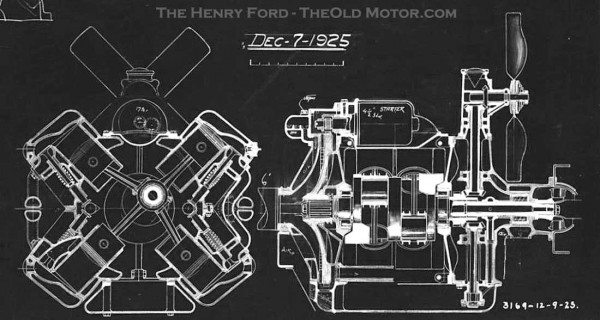 And finally we see a much earlier experimental X-8 that Ford built in the waning days of the Model "T" Ford. The water-cooled version was designed by Eugene Farkas and tested along with an air-cooled version. You can read about and see more photos of the
X- 8 engined Ford
car
in a book, "Friends, Families and Forays" written by Ford Richardson Bryan. You can also see and learn more in an article called
Experimental Ford Engines
at Hemmings Daily. Photos courtesy of
The Henry Ford Museum.
Many other interesting photos from
The Henry Ford
can also be seen here on
The Old Motor.